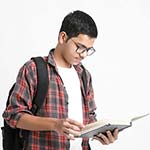 1. Standardised curriculum
Not only does the syllabus offered by CBSE prepare students for university admissions and entrance exams, it also follows the guideline of the National Council of Educational Research and Training (NCERT). This provides students with a uniform structure, allowing them to study and develop skills simultaneously, ultimately better prepare them for a successful transition to higher education. Due to the standardisation of curriculum and teaching materials, it is easier for students to continue pursuing their studies in foreign schools should their families decide to relocate.
2. Holistic approach
CBSE schools in Singapore devise a student-friendly approach through the introduction of effective teaching and learning methodologies. Besides providing students with academic knowledge, students also apply skills learnt in the classroom to real-world challenges.
3. Ease of admission
Due to the nature of its curriculum, CBSE examinations enable students to use critical thinking skills as well as a deep understanding of global issues to tackle questions. It provides CBSE students an advantage when they sit for a university entrance exam. Furthermore, most engineering and medicine entrance exams are based on the CBSE syllabus, providing these students with an advantage in answering the questions.
In conclusion
CBSE covers a broad range of subjects using innovative and holistic approaches to achieve academic excellence. Synchronising academics with skills subjects and extracurricular activities, CBSE is a board that aims to improve every student's overall development and skill sets.
Having been in the education industry for six decades, NPS International School is one of the top Indian international schools in Singapore offering CBSE to students, ultimately facilitating their entry into the world's leading universities. Contact our Admission Team at 6294 2400 to find out more about NPSI enrolment or visit our website: Top International School Singapore | NPS International School